Playapex.net is a community site that anyone can contribute to. Discover, share and add your knowledge!
Trending articles
Popular categories
View full main page

Welcome to the Official ApexPS Wiki Page. To suggest an edit click here.
Navigation
Latest Content Updates
---
11th December
- Fixed the Sorrow Gear Problem

- Increased Agility Tickets from 1 all the time to (1 to 10)

- Have lowered the Slayer Task Requirement a further 25% for all you grinders.

- NOW INTRODUCING DAILY EVENTS

- Monday = 75% Chance on Double Vote

- Tuesday = 1.75x Slayer Points

- Wednesday = +2x Drop rate

- Thursday = 10% Damage Boost

- Friday = 50% Chance to Double Baller Tickets

- Saturday = 75% Chance Double Vote, 1.75x Slayer Points, +2x Drop rate, 2x Exp Rate

- Sunday = 75% Chance Double Vote, 1.75x Slayer Points, +2x Drop rate, 2x Exp Rate


So for every person who ended up getting the first week of daily rewards before christmas congratulations.

Now to spice things up i have added even better items for the 2nd week before Christmas. So in order to get all the loots make sure to log in and vote everyday to get all them juicy rewards! https://i.imgur.com/DGMde8p.png

Thank you all, and hope you are enjoying it we are definetly getting more players as the days are going!

Thank you to everyone who has been helping me, and we are going to reach the top together!

Thanks Apex Team
---
Show Case of Amazing In-Game Content
---
Join Our Discord
Ever been a part of an elite discord server? Well, what are you waiting for?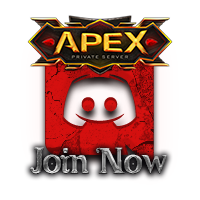 Join us and share your adventures with the Apex discord! Super active community and friendly staff team will help you along the way.
ApexPS Wiki Staff
Latest activity